What do you want with your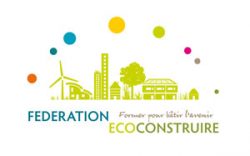 organisation?
The Fédération Ecoconstruire is meant to :
REPRESENT training organizations and develop their training offer for eco-construction,
ENSURE RECOGNITION of training in eco-construction,
HARMONIZE good training practices and organize training for managers and trainers,
ACCREDIT the skills of training organizations and integrate widely the professional know-how,
CREATE national diplomas and professional titles,
CONTRIBUTE to research and innovation in eco-construction.
Why do you want it?
We develop training contents aiming at a constant search for a fair trade, taking into account the whole process of production as well as developping and sustain local, territorial and planetary resources.
Part of our training is based on traditional techniques that contribute to the preservation of know-how and the development of skills. Our courses in the field of eco-construction are aimed at adapting and perfecting these techniques, in order to :
improve working condition,
reduce the imbalance caused by the manwork and building site on the ecosystem and biodiversity,
improve thermal and sanitary comfort of buildings.

We want to develop quality buildings respectful of know-how, of health and the environment, to contribute to the strengthening of the social and intergenerational fabric so that the act of building can keep a social, cultural and economical meaning.
How do you try to reach your goal?
Our members are committed to
Promote and develop eco-construction training programs,
Participate in and contribute to the ethical and sustainable development of eco-building sector,
Ensure the recognition of eco-building training program, including through their environmental, social and economical aspects,
Contribute to a fair trade based on mutual respect and quality of work
Ensure that materials are used in a responsible way, favoring those assiociated with higher qualification and higher social value
This involves a constant technological scrutiny, the participation in public or private working groups, and the creation of partnerships with the main building stakeholders.
What is your superpower?
The strength of the number sharing knowledge
Contact:
Email: contact@federation-ecoconstruire.org
Web: www.federation-ecoconstruire.org
Address: Fédération Ecoconstruire
Maison des associations, 9 rue du Colombier
38160 Saint Marcellin